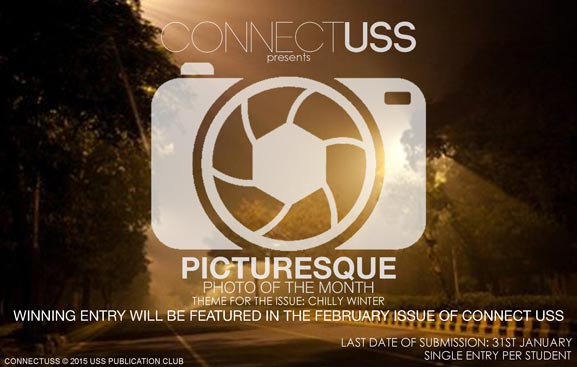 Picturesque
(Photo of the Month Contest)
ConnecctUSS Team
ConnectUSS brings to you its photo of the month contest. Picturesque is an opportunity for all the camera-nuts of USS to showcase their skills and be acknowledged for it. It is a monthly contest that encourages the talent of photography within students. The rules and other details related to the competition are mentioned below. So if you are a true Shutterbug then send in your entries and share your talent with the entire USS family.

General Rules:
1. The contest is open to all students of the University Schools of Studies.
2. Every participant is allowed a maximum of one entry.
3. It is mandatory for participants and voters to have liked the ConnectUSS facebook page for them to be eligible for participation and voting respectively.
4. Photographs can be taken using any device.
5. Photos should be the original work of the participant. Plagiarism will lead to disqualification.
6. The photos should be related to the theme of the month. Unrelated photos or obscenities will lead to disqualification.
7. Editing or modification of photographs in any form is not allowed, except minor cropping.
8. The entries should be e-mailed to connectuss.picturesque@gmail.com as mentioned below.

Submission of Entries:
Participants should send their photographs via e-mail to connectuss.picturesque@gmail.com along with the following details-
1. Name of Participant
2. Name of University School
3. Course and Year
4. Link to Facebook Profile (for tagging the participant)
5. Caption for the photo(Optional)

Judging Criteria:
The photo entries will be judged on the basis of likes on the facebook page. Voters can vote for their favourite photos by liking the entries. The photo with the maximum likes at the end of the deadline will be chosen as the winner.

Winning photos will be published in the consecutive issue of ConnectUSS.