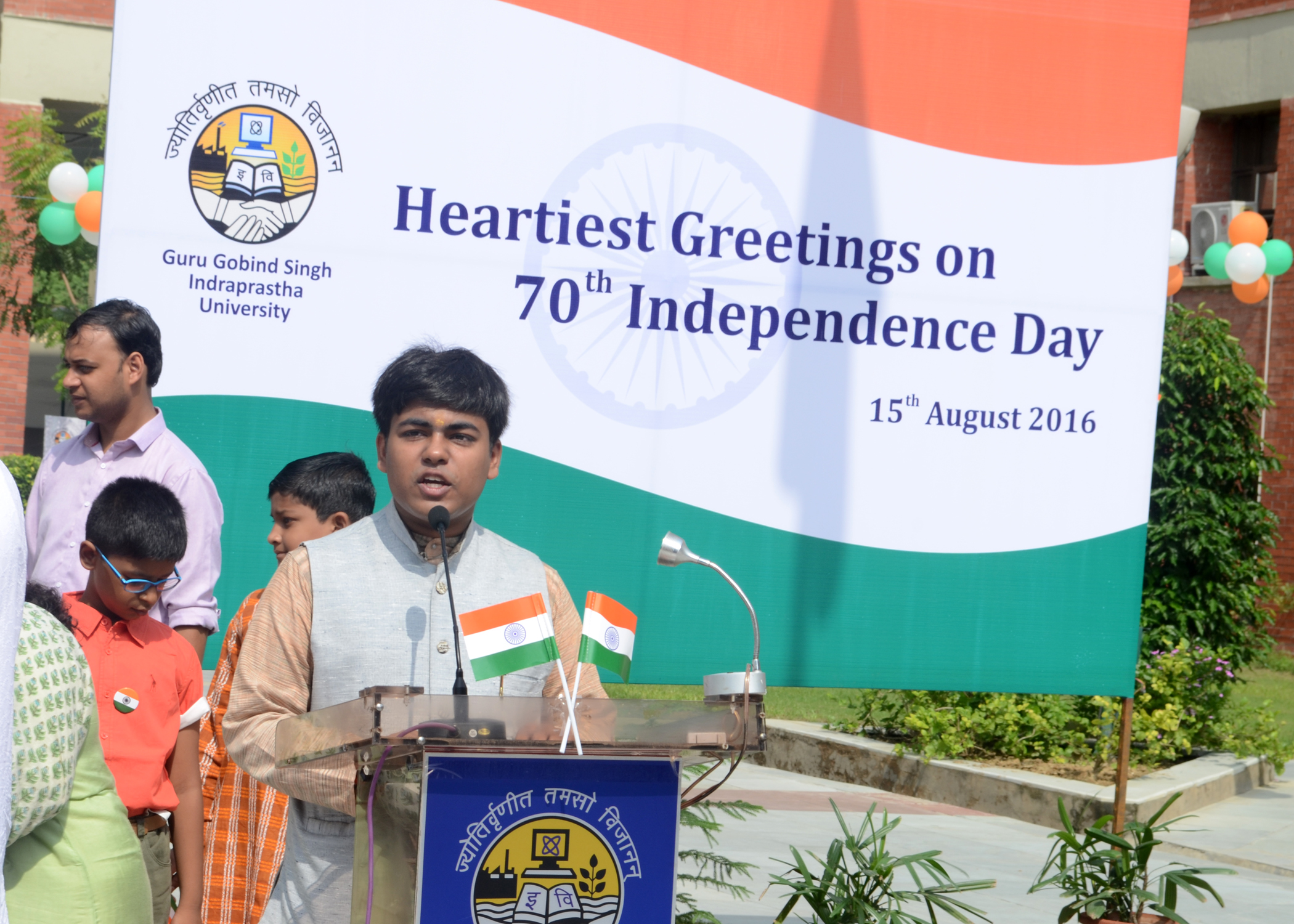 INDEPENDENCE DAY – 2016 CELEBRATION AT GURUGOBIND SINGH INDRAPRASTHA UNIVERSITY
Anmol (USLLS)
"Bhara nahi jo bhaavo se, behti jismein rasdhaar nahi; Hriday nahi vo pathhar hai, jismein swadesh ka pyaar nahi!" –Maithili Sharan Gupt. The 70th Independence Day of India was celebrated with great zeal and enthusiasm on 15th august, 2016 in the premises of GGSIP University. Owing to the Prime minister, Mr. Narendra Modi, in accordance to his mission, "70 Saal Azadi- Zara Yaad Karo Kurbani", also called "AZADI 70", this theme was carried forward in the main campus. The celebrations commenced from 9:00 am with the unfurling of the national flag; following which the choir group of USS sung the National Anthem. Later, honorable Vice Chancellor, Dr. Anil Kumar Tyagi addressed the audience and enlightened the students with his words of wisdom and patriotism. He motivated the students and staff to join hands and work together towards the development of the University and Nation.

In consonance to this, the children of the University and staff sung together beautiful songs, commemorating the sacrifice of the great freedom fighters while waving the little tri-colors. Audience swaying on the melody, birds chirping along, and a fascinating weather; the best day to pay tribute to the nation's avengers! Anmol, Second year student of University School of Law and Legal Studies then presented a speech, educating the students about the struggles our heroes dealt with, along with an exhilarating patriotic poem. The audience thundered applauds and his delivery was hugely appreciated.
All the students and the faculty present were drooling in the essence of patriotism. They were tapping on the beats of the tremendous 70's songs, enjoying every moment of the event. Last but not the least, as a healthy treat to the independent citizens of the nation, customary Laddoos were distributed. "Since Kinder Garten, we've been celebrating this auspicious event and have paid tribute to our astounding freedom fighters remembering their sacrifices and have been carrying the light of patriotism in our hearts! Whenever there's an essence of nationalism caresses, it feels great", shared Tanmay, a student of University School of Chemical Technology.