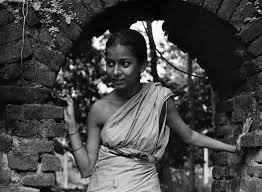 PATHER PANCHALI- An account of personal sensations
Devika Bedi (USMC)
Influenced by neoliberal Italian cinema, Ray assembles the quotidian lifestyle of a Bengali family that lives in poverty, starvation and grave helplessness. Set in early 90s, the film stimulates stark differences between then and now. The script is slow yet intricately revealing and lucid and gives enough time for emotional involvement through cinematic realism. It is a simple story about how a family of five going through socio-economic stress- a workaholic father, an ageing unwanted aunt, a girl between her teenage blues forced to accompany in her mother's eternal quest to make her family survive and a boy that grew too fast.

It (is not an optimistic work of art) portrays the grim understanding of rigid gender roles in a rural atmosphere- something that still prevails, though carefully following an androgenic approach without defining antagonists and protagonists. The very less camera movements and intelligent shots maintain continuity making me feel almost like an invisible observer of the situation. Ravi Shankar's music dominates in dictating the different moods ranging from raga Desh and raga Thodi conventionally associated with monsoon and death respectively.

The director's genius subtly accentuates a world where people are born, live out their lives and then accept their deaths. It is a kind of cinema that flows with serenity and nobility by depicting a human situation with innocence along with thorough understanding of society. Although in my opinion, a conventional treatment of realism, or per say an extremist adoption of real-life scenarios arise questions on societal evolutions that arise in diluting a conflict, Pather Panchali fits fiction intricately into the social fabric accounting unadulterated flair of childhood, the agony and rebellion of a old person having high self respect, a jealous mother and a boy who maintains a sense of loyalty to his sister even after her demise. It doesn't simplify what is complicated and doesn't complicate what is simple. It pursues beauty to its liar.